The Agri-food Industry includes both the products obtained from the agrarian and fisheries sector for final consumption (Agriculture, livestock, forestry and fishing) and the products manufactured by the food industry (Food, Beverages and Tobacco).
It´s one of the most important economic sectors in the Spanish economy (and also of others european economies), not only for its contribution to production and employment but also by its international projection.  Spain is one of the world's leading exporters of food products ( seventh); Besides,  while Spain has managed to safeguard its share in the international market, other countries like Germany, France, the Netherlands and Italy within the EU, and the United States outside the EU, have lost positions in favor of  other big producers  such as Brazil or China.
The quality, the uniqueness of their products (fruits, vegetables, wine, olive oil, meats) are behind the strong performance of the share market, and the market share is a good  indicator of the competitiveness of the Spanish agribusiness.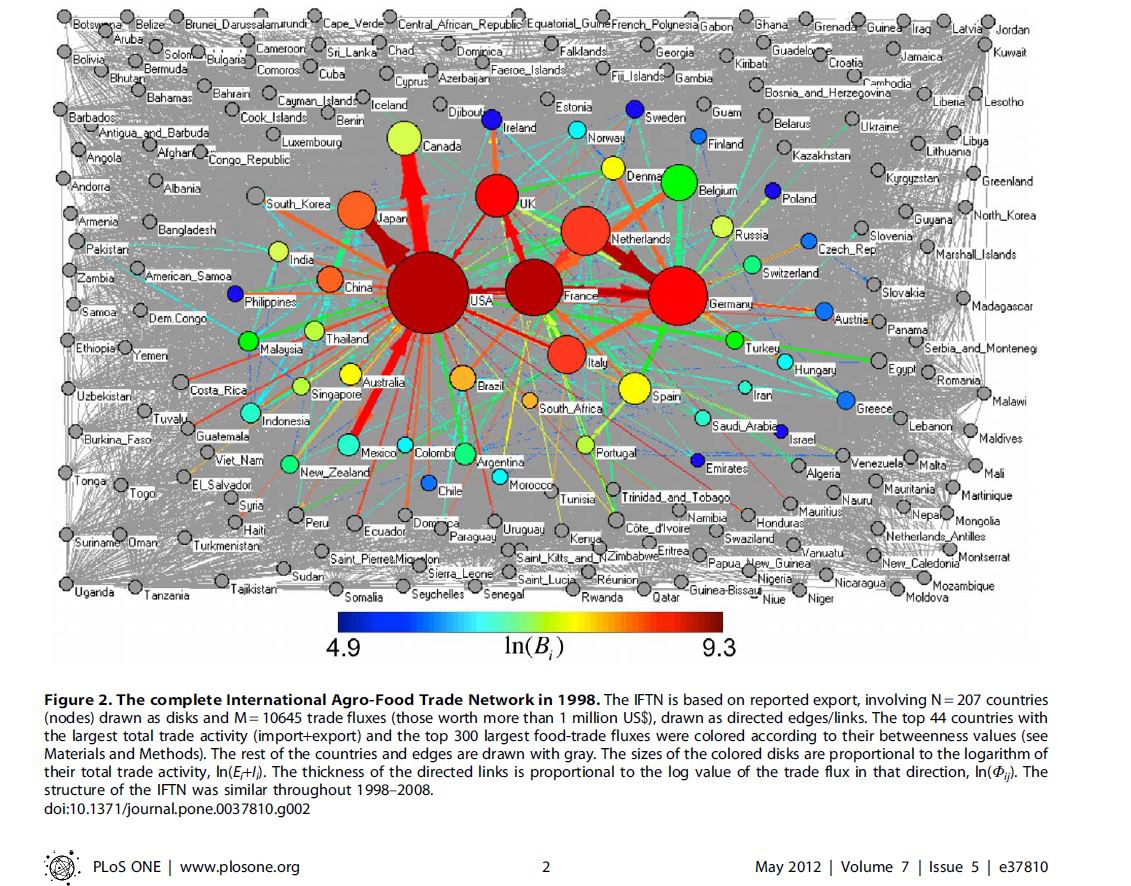 Recent works such as Ercsey-Ravasz et al (2012) and Clemente et al (2015) highlight the importance of complexity science in the study of the agri-food sector. Especially the international agro-food trade network (IFTN), with nodes and edges representing countries and import-export fluxes, respectively, has evolved into a highly heterogeneous, complex supply-chain network. Seven countries form the core of the IFTN, with high values of betweenness centrality and each trading with over 77% of all the countries in the world (Ercsey-Ravasz et al., 2012, see figure).
At present, the group focuses  their researches in the study of the competitiveness of the various activities that make up the agri-industrial sector to identify opportunities that each of agribusiness activities are to maintain or improve its international market share. Are studied, for this, variables related to quality and product differentiation, with  suppliers (regions of origin of exports) and customers (countries of destination of sales) and the innovations developed by the industry (processes and products).
Contributions
García-Grande, M.J. and López-Morales, J.M.(2015): The agri-food trade in Spain: specialization and international competition
García-Delgado, J.L. and García-Grande, M.J. (dirs.) (2005): Política agraría común: balance y perspectivas. 
García-Grande, M.J. (2015); "Estándares de las exportaciones españolas" qcom.es. Noviembre.