The natural environment is the foundation of human health, as clean water and air, recreation and appropriate environmental management are all crucial for public health. Moreover, direct contact with nature contributes to improved immune system functioning, mood and concentration, while reducing stress and increasing the benefits of physical exercise.The relationships between human health and the environment extend beyond the mere absence of illness; rather, they involve a holistic approach of health, defined by the World Health Organization (WHO) as "a state of complete physical, mental and social well-being."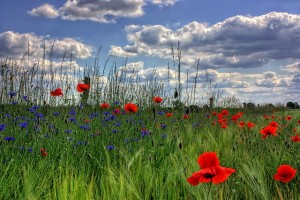 Green spaces, as well as blue areas, can promote many beneficial effects or co-benefits. A first set of benefits is linked with the reduction of pollution and climate change impacts. These include a cooling effect in cities during heat waves, improvements in air quality due to capture of particulate matter pollution, and reduction of noise pollution by absorbing and deflecting sound. A second set of benefits comes from the nature itself and includes improvements of the ecosystem quality, through a better regulation of water or improved water purification for example. Appropriate valuation of these ecosystem services could lead to more sustainable management of natural resources. Thirdly, there are benefits related to social factors, such as the promotion of active lifestyles which contributes to reduced obesity and increasing longevity, the reduction of health inequalities, as well as improved community cohesion, sense of identity, education and learning. A fourth group of benefits relates to the possibility of enjoyment through recreational activities and rural tourism. These benefits are connected with the economy through the development of tourism, wellness centres, and similar. Finally, the last set of benefits would come from microorganisms. The so-called 'old friend theory' states that symbiotic relations with microbiome allow our immune system to develop correctly (Rook et al., 2014). Lack of contact with ecosystems would obstruct the spread of microorganisms in the human body (Rook, 2013). All these benefits translate into beneficial effects on human health.
Contributions
Martinez-Juarez P, Chiabai A, Taylor T., Quiroga S, (2015). The impact of ecosystems on human health and well-being: a critical review. Jounal of Outdoor Recreation and Tourism. (In press)
Martinez-Juarez P, Chiabai A, Quiroga S, Taylor T. (2015). Ecosystems and human health: towards a conceptual framework for assessing the co-benefits of climate change adaptation. Basque Center for Climate Change BC3 Working papers [2015-01].
Projects
In the setting of the 2nd PNACC workprogramme, ECOHEALTH addresses the need to identify measures which could bring multiple co- benefits in health and ecosystems protection, in a context of adaptation to climate change, while mobilizing key stakeholders.

The project relates to and expand some of the objectives stated in the Cost Action TObeWELL (Tourism, Wellbeing and Ecosystem Services, 2012-2016, Cost Action IS1204), which aims at bringing together principles of ecosystem services (ES), focusing on life support systems, with more non-material services such as culture, health and wellbeing.

This project is based on bringing together principles of ecosystem services (ES), which focus on life support systems, with more non-material services such as culture, health and wellbeing through tourism.

It aims to link research on wellbeing provided by ecosystems and their use via tourism, leisure and recreation activities.

Forest ownership is changing across Europe. In some areas a growing number of so-called "new" forest owners hold only small parcels, have no agricultural or forestry knowledge and no capacities or interest to manage their forests, while in others new community and private owners are bringing fresh interest and new objectives to woodland management.

This diversity and change creates implementation problems for forest-related policies including biodiversity conservation, timber and renewable energy supply, climate change mitigation, or recreation.