Innovation can be defined as a systemic technological and social change process which consists of the invention of an idea for change and its application in practice. Expanding on this definition of innovation, we define eco-innovation as referring to an innovation that improves environmental performance. Eco-innovation is most commonly related to technological change in production processes and products. Furthermore, eco-innovation can be considered a change in the behaviour of individual users or organisations. Eco-innovation can also be considered as a strategic perspective to renew the business. In practice, these dimensions are often intertwined, which is why we attempt to address them together in this research –an approach that has not been sufficiently considered before.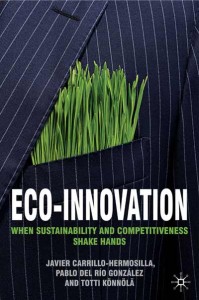 In this research we aim to:
1. Characterise different kinds of eco-innovations and identify and describe different dimensions for studying innovation processes which address environmental issues.
2. Arrive at their respective implications alongside the traditional dichotomy between competitiveness and sustainability (environmental protection).
3. Address and identify the barriers that eco-innovation faces both in its development and application.
4. Identify those policy features and measures that can be implemented in order to help remove those barriers (or encourage the drivers) and enhance the uptake of eco-innovations.
5. Address the issue of what managers can do to take up eco-innovation in their corporate strategy.
Main results to date (for more information please visit: https://www.researchgate.net/profile/Javier_Carrillo-Hermosilla):
Eco-innovation: When Sustainability and Competitiveness Shake Hands (with del Río, P. and Könnölä, T.). Hampshire: Palgrave Macmillan, August 2009. ISBN: 978-0-230-20206-1. Rights in Spanish sold to Ediciones Deusto. Rights in Chinese sold to Shanghai Scientific & Technical Publishers.
"Business strategies and capacities for successful eco-innovation." (with del Río, P., Könnölä, T. and Bleda, M.) Technological and Economic Development of Economy (in press) (JCR 2014: 1.563 – Q1).
"Technological diffusion and standardization patterns: An industrial taxonomy." Journal of Economic Issues, 2015, Vol. XLIX No. 1: 253-263 (JCR 2014: 0.573).
"Governance of energy system transition: Theoretical framework and empirical analysis in Europe" (con Könnölä, T. and Loikkanen, T.) International Journal of Transitions and Innovation Systems, 2013, 3 (1): 50-69.
 "Diversity of eco-innovations: Reflections from selected case studies" (with del Río, P. and Könnölä, T.) Journal of Cleaner Production, 2010, 18 (10-11): 1073-1083 (JCR 2014: 3.844 – Q1; among the 25 most cited articles published in JCP between 2010-15, extracted from Scopus).
"Policy strategies to promote eco-innovation: An integrated framework" (with del Río, P. and Könnölä, T.) Journal of Industrial Ecology, 2010, 14 (4): 541-557 (JCR 2014: 3.227 – Q1).
"Challenges and opportunities of a post-Kyoto mitigation regime: An analysis of the European electricity sector" (with del Río, P., Könnölä, T. and García, C.) Mitigation and Adaptation Strategies for Global Change, 2008, 13 (8): 863-885 (JCR 2014: 2.669).
"An empirical analysis of institutional barriers to European hydrogen RD&D cooperation" (with Könnölä, T., del Río, P., Pombo-Juárez, L. and Unruh, G.) International Journal of Sustainable Development, 2008, 11 (1): 74-96 (EconLit).
"Toward prospective voluntary agreements: Reflections from a hydrogen foresight project" (with Könnölä, T. and Unruh, G.) Journal of Cleaner Production, 2007, 15 (3): 259-265 (JCR 2014: 3.844 – Q1).
"A policy approach to the environmental impacts of technological lock-in" Ecological Economics, 2006, 58 (4): 717-742 (JCR 2014: 2.720 – Q1).
"Globalizing Carbon Lock-in" (with Unruh, G.) Energy Policy, 2006, 34 (10): 1185-1197 (2014: 2.575 – Q1).
"Prospective voluntary agreements for escaping techno-institutional lock-in" (with Könnölä, T. and Unruh, G.) Ecological Economics, 2006, 57 (2): 239-252 (JCR 2014: 2.720 – Q1).
"Technology stability and change: An integrated evolutionary approach" (with Unruh, G.) Journal of Economic Issues, 2006, Vol. XL, No. 3: 707-742 (JCR 2014: 0.573).